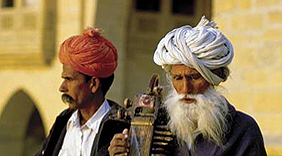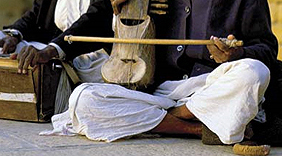 Custom Made Tour
Feel free to let us know if you are looking for customize tour program as all the tour itinerary is sample it can be modify according to your requirements.

Mehrangarh Fort, Jodhpur
Mehrangarh Fort, Jodhpur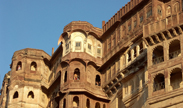 Mehrangarh Fort, Jodhpur is one of the largest forts in forts. It is also the most magnificent fort in Jodhpur, infact, in the whole Rajasthan. The fort is amongst the popular tourist places in India. It is situated on a 150 m high hill. It was founded by Rao Jodha in 1459. The Mehrangarh Fort can be reached from the city, 5 kms below, through a circular road.
Read on to know more information on The Mehrangarh Fort, India:
Seven gates have to be crossed to reach the fort. The gates still bear the marks of the various battles fought in the bygone era. Its second gate still stands witness to canon ball hits by attacking armies of Jaipur during wars. One of the gates is Jayapol, meaning victory. It was built by Maharaja Man Singh to commemorate his victories over Jaipur and Bikaner armies. Another gate, Fattehpol, again meaning victory, was built by Maharaja Ajit Singh as a celebration for defeating the Mughals.
Other attractions of Mehrangarh Fort, Rajasthan include several palaces inside the fort, with their sprawling and huge courtyards. One of the fort's palaces, The Moti Mahal or the Pearl Palace, has the royal throne of Jodhpur, the Sringar Chowki. The fort also has galleries, temples, etc. To the left of the Mehrangarh Fort is the Chhatri of a soldier, Kirat Singh Soda. It is the spot where he fell while defending the fort against the armies of Amber.
The Mehrangarh Fort, with its beauty, is the living proof of the hard work and skill of the Jodhpuri sculptors.
History of Mehrangarh Fort

Jodhpur Mehrangarh Fort History is related to Rao Jodha. He became the fifteenth Rathore ruler in 1458. One year after his accession, Jodha was advised to move his capital to a safer place. The one thousand years old Mandore fort was slowly and gradually deteriorating. This led to the foundation of Mehrangarh Fort.
Past of Mehrangarh fort in Rajasthan, India has no mention of any seizure. The invincible fortifications are six meters thick. Some of the walls still bear cannon marks they had once withstood. Today this magnificent Jodhpur fort is a living testimony that recounts the chronicles and legends of Jodhpur's rich past.