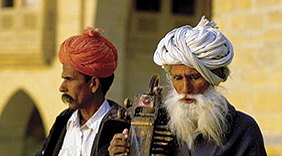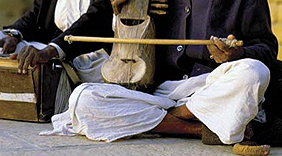 Custom Made Tour
Feel free to let us know if you are looking for customize tour program as all the tour itinerary is sample it can be modify according to your requirements.

Golden Triangle Tour with Orchha and Khajuraho
Duration : 07 Nights / 08 Days
Destination :
Delhi - Jaipur - Agra - Khajuraho - Varanasi - Delhi

Golden Triangle Tour with Orchha and Khajuraho Highlight
City
Tour Highlight
Delhi
Red Fort, Raj Ghat, Jama Masjid, Chandni Chowk, India Gate, President's House, Humayun's Tomb & Qutub Minar
Optional Sound & Light Show at Red Fort with dinner at Chor Bizarre
Jaipur
Elephant ride to Amber Fort Palace , City Palace, Jantar Mantar (Observatory) & Hawa Mahal (Palace of Winds) Optional Cultural evening at Chokhi Dhani
Agra
Taj Mahal, Agra Fort, Sikandra Fort and Fatehpur Sikri
Khajuraho
Western Group Temples, Eastern Temples and Southern Temples
Day 01 :
Delhi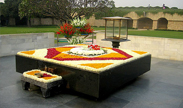 Arrive at Delhi. You will be greeted on arrival at the International Airport. Our representative will help you with your transfer to your hotel where you can relax. Spend the night at your hotel in Delhi.
Delhi:
Delhi is the capital of India and its third largest city. Delhi, the seat of one of the world's largest democracies is a combination of "Old Delhi"- the capital of Muslim India and "New Delhi" the imperial city created as the nation's capital by the British. There's a unique blend of tradition and modernity. Here one can see mingling of many cultures, languages, traditions and people in complete harmony.
Overnight will be at Delhi.
Day 02 :
Delhi
Breakfast will be at hotel. Later proceed for sightseeing tour of Delhi visiting,
Red Fort:
Red Fort or Lal Quila as it is more popularly known is a masterpiece of architecture and one of the most haunting spots for tourists from both India and abroad. This colossal fort on the banks of the river Yamuna, built by Shahjahan as the citadel of the 17th Century Delhi is a significant link between the past and the present, for it is from here that the prime minister of India addresses the people on the Independence Day (August 15th). Mughal Emperor Shahjahan started construction of the Red Fort in 1638, which was completed in 1648.

Raj Ghat:
The mortal remains of Mahatma Gandhi were cremated on this spot on the west bank of the river Yamuna on the evening of January 31, 1948. A simple open platform inscribed with the Mahatma's last words, 'Hey Ram' (Oh God) is set in a garden with fountains and a variety of exotic trees.
Jama Masjid:
It is the largest mosque in India. Located in Old Delhi, the mosque has the capacity to accommodate 25000 devotees. Jama Masjid was completed in 1656 AD and it was again the great Mughal Emperor Shah Jahan behind this architectural masterpiece. Close to some 5000 craftsmen were involved in the construction of the mosque. Jama Masjid is also called the Friday congregational mosque.
Qutub Minar:
The tallest Stone tower in India
India Gate:
An imposing structure and a venue to the annual military parade on India's Republic Day
The Parliamentary Building
The Rashtrapathi Bhavan:
The President's Residence
Come back to your Hotel for a good night's sleep, to let the amazing day's visits sink in.
Overnight will be at Delhi
Day 03 :
Delhi - Jaipur (By Road 260 Km/5 hrs)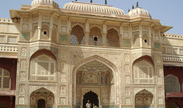 Post breakfast we leave for Jaipur the flamboyant capital of Rajasthan. On arrival at Jaipur, our representative will meet & assist you to check-in at our hotel for overnight stay.
Excursion to Chokhi Dhani:
Today we will take you for evening excursion to Chokhi Dhani complex, an ethnic village resort located at a distance 15 km from Jaipur. Evenings at Chokhi Dhani are very special. A Rajasthani village atmosphere is recreated on the sprawling ground and includes the entertainment by folk dancers and musicians. The guests can move around freely and enjoy the evening. Later drive back to Hotel for overnight stay.
Overnight at Jaipur
Day 04 :
Jaipur
Proceed for a morning excursion to Amber Fort after breakfast. Elephant ride ascent to the fort.
AMBER FORT PALACE:
Amber is the classic romantic Rajasthani fort palace. Its construction was started by Man Singh I in 1592, and completed by his descendent Jai Singh I. Its forbidding exterior belies an inner paradise where a beautiful fusion of Mughal and Hindu styles finds its ultimate expression.
Continue sightseeing.
CITY PALACE:
A delightful blend of Mughal and traditional Rajasthani architecture, the City Palace sprawls over one-seventh of the area in the walled city. It houses the Chandra Mahal, Shri Govind Dev Temple and the City Palace Museum.

JANTAR MANTAR:
This is the largest and the best preserved of the five observatories built by Jai Singh II in different parts of the country. This observatory consisting of outsized astronomical instruments is still in use.
HAWA MAHAL:
The ornamental facade of this "Palace of Winds" is a prominent landmark in Jaipur. It is a five-storey structure of sandstone plastered pink encrusted with fine trelliswork and elaborate balconies. The palace has 953 niches and windows. Built in 1799 by Pratap Singh, the Mahal was a royal grandstand for the palace women.
This afternoon is free for you to relax, shop or explore independently. Shopping is superb in Jaipur, particularly for gold and silver jewellery, pottery, tie-dye materials, silk, saris, wooden handicrafts and carpets.
Overnight Hotel - Jaipur
.
Day 05 :
Jaipur - Agra (By Road 240 km/5 hrs)
Have breakfast at the hotel and later proceed for Agra, en-route Fatehpur Sikri.
Briefing (Fatehpur Sikri) -
Fatehpur Sikri is 37 km west of Agra. Jajal-ud-din-Muhammad Akbar, Humanyun's son, accessed the throne at the tender age of 14. While hunting around Sikri his curiosity was aroused by the songs of some minstrels about the celebrated Khwaja -Mu'inu'd-din Chisti, the founder of the Chisti order of SUFIS. Akbar, who was without a male heir heard about Saint Salim Chisti and visited him in the year 1568.
Continue your drive to Agra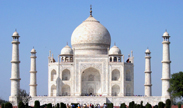 Briefing (Agra):
The overwhelming is the exquisite beauty and presence of this marble mausoleum that centuries later today, even the very land where it has been located - Agra - has been immortalized as the City of the Taj. Yet, it doesn't take much for the roving eye to discover that there's more to Agra than just the fabled Taj Mahal. . The older city of Agra has impressively retained much of its resplendent history… captivating every visitor with fond memories to take back home.
Check in at Hotel, Evening visit Taj Mahal.

TAJ MAHAL:
Little needs to be said about this architectural wonder, which is always the soul raison-de-etre for every tourist's visit to Agra. Built by Shah Jahan, the Taj is a white marble memorial to his beautiful wife Mumtaz Mahal. This monument took 22 years to be completed and was designed, and planned by Persian architect Ustad Isa. Apart from its stunning design balance and perfect symmetry, the Taj is also noted particularly for its elegant domes, intricately carved screens and some of the best inlay work ever seen.
Spend your night in the town of the most amazing wonder of the world - THE TAJ MAHAL
Day 06 :
Agra - Jhansi (Shatabdi Exp. Dep @ 0800 hrs / 1030 hrs) / Orchha
After an early breakfast in hotel & transfer to railway station to board the train to Jhansi, Arrive Jhansi & drive to Orchha & transfer to hotel.
Meeting and assistance upon arrival and proceed to Orchha (18 kms) and check-in at hotel. Afternoon sightseeing tour of Orchha, overlooked by the modern era, this beautiful medieval town, was once the capital of Bundela Kings. Built along the banks of the river Betwa, flowing through a rugged country side, it still retains the captivating air of a bygone era. Amongst the various imposing edifices, of particular interest are the Jehangiri Mahal, built by Raja Bir Singh Deo to commemorate the visit of Moghul Emperor Jehangir, the Raj Mahal and the Laxmi narayan temple, both noted for their fine Frescoes and Mural paintings.
Overnight at Orchha
.
Day 07: Orchha - Khajuraho

Morning drive to Khajuraho (150 kms) and upon arrival check-in at hotel. Half day visit to Eastern group of temples .
Eastern group of temples:
Visit to Eastern Group of Temples. The Eastern Group of temples include the Ghantai Temple, Vamana Temple dedicated to the "Vamana" or dwarf incarnation of Lord Vishnu and the Javari Temple. There are also three Jain Temples with beautiful carvings and non-erotic sculptures. Although these are Jain Temples, they also contain numerous Vaishnav deities..
Overnight Stay in Khajuraho.
Day 08: Khajuraho - Jhansi - Delhi (By Air or By Train)
After an early breakfast visit Western Group of Temples.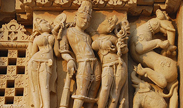 Western Group of Temples:
built between 950 & 1050 AD by the mighty warrior kings of the Chandela dynasty, in a truly inspired burst of creativity. Temples are famous for the magnificent carvings depicting numerous sexual postures of the famous 'Kamasutra' ancient Indian work on sex. Only 22 temples survive of the 85 originally built. In fact, worship is still done today in the Matangeshwara temple, continuing an unbroken 1000 year tradition.
After lunch drive back to Jhansi, take train from Jhansi railway station for Delhi, reach Delhi by 11:00 PM transfer to International airport.
Tour End