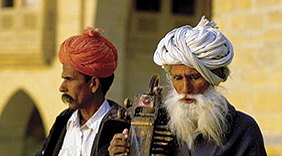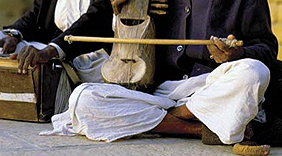 Custom Made Tour
Feel free to let us know if you are looking for customize tour program as all the tour itinerary is sample it can be modify according to your requirements.

Home
-
Rajasthan Travel Guide
Rajasthan Travel Guide
Rajasthan is one of the most popular travel destinations in India. Every third foreign tourist visiting India also travel to Rajasthan. Known for Historical Monuments, the modern Rajasthan Tourism is benchmarked for the warm hospitality and Internationally Awarded Hotels & Resorts. Here you'll see a perfect amalgamation of ages old traditional culture, modern luxury and comforts. Touring Rajasthan is a unique experience which leaves you spells bounded as you explore it more & more. The major Tourist Destinations like Jaipur, Jodhpur, Jaisalmer and Udaipur are well interconnected to take up a round tour in form of Itinerary. Rajasthan also connects to other popular places like Agra, Khajuraho and Varanasi.
Rajasthan offers a deep insight into the tough yet colourful life which makes it one of the most popular tourist destinations in India. Any trip to India is definitely incomplete with a Rajasthan Tour.
Rajasthan has been the house of royalty in India. Also called the Land Of Princes Rajasthan is a perfect destination to witness the magnificent lives the Maharajas of Rajputana must have led. The State of Rajasthan offers a plethora of destinations to visit. It is famous for having one of the oldest mountain ranges called the Aravallis and the sun kissed Thar Dessert. In terms of heritage Rajasthan is one of the leading States in India. There are large number of Forts, palaces and Havellis which are world renown for their architectural wonder, delicate carvings and colorful splendor. Territorially the largest State of India Rajasthan covers an area of about 343,000 sq km.
The history of Rajasthan is filled with numerous legends of heroic acts of the Rajput Kings who began to rule Rajasthan from 9th century AD. The chivalrous Kings of Rajputana Prithviraj Chauhan and Maharana Pratap of Mewar fought many wars to save the honor of their land, people and traditions. The State of Rajasthan was formed at the time of Independence of India when the Rajputana's 18 Princely States, two chieftain and one British administered province were merged. The main languages spoken in Rajasthan are Rajasthani and Hindi and chiefly four dialects Jaipuri, Mewati, Malwi and Braj Bhasa.
The cities of Jaipur, Jodhpur, Udaipur, Jaisalmer, Bikaner, Amber are all living examples of the royalty that once resided in Rajasthan. The Forts, Palaces and Havellis in these Cities are all testimony to this. The Mehrangarh Fort and Umaid Bhawan Palace of Jodhpur, Lalgarh Palace of Bikaner, City Palace of Jaipur, Udaipur, Jaisalmer Fort, Junagarh Fort, Chittorgarh Fort keeps the traveler or tourist mesmerized by their beauty.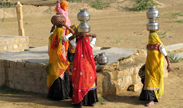 The State of Rajasthan apart from its heritage status is famous for its Wildlife Reserves and Religious pilgrimages. Some of the rare species of animals like Chinkara, Blackbuck, Great Indian Bustard and several migratory birds are found exclusively in Rajasthan. Sariska, Bharatpur Sanctuary, Desert National Park, Tal Chappar Sanctuary are one of the few places in Rajasthan where the rich and diverse Flora and fauna of Rajasthan can be viewed. Rajasthan also is a favorite destination for pilgrims belonging to Hindu, Jain and Muslim Religion. The Dilwara Jain temples, Pushkar temple and Ajmer Sharriff are all examples of Religious and Cultural diversity in Rajasthan. Rajasthan today is a perfect blend of its rich heritage as well as a modern State surging ahead keeping with changing times of Modern banking, Industrial, Technological development in the World. Rajasthan is a visual treat for its vibrant and colorful lifestyle, something that will keep the traveler rapt with attention an experience he will cherish for the lifetime.
Forts in Rajasthan also add to the story of royal grandeur and the strength of Kings of Rajasthan. They are also strong reminders of great ancient culture and heritage of western India. Nearly all of these maginificent masterpieces of strength and valor are built over hill tops and some of them are located in deserts or inside jungles.
Every city of Rajasthan like Jodhpur, Jaisalmer, Udaipur, Bikaner is a witness to the rich history of the state and proudly displays the living symbols of their rulers from past. Mehrangrh Fort in Jodhpur, Junagarh Fort in Bikaner, Amber Fort and Jaigarh Fort in Jaipur, Golden Fort in Jaisalmer, are some of the forst that leave the international tourists awestruck.
Rajasthan is a land of rich colours and is loaded with affluent festivities. Fairs and folk dances form a strong part of Rajasthani culture. Pushkar Fair is held each year in November at the holy town of Pushkar, 11kms away from Ajmer. International tourists especially flock down to witness the scintillating lake laden with floating lamps at night. These floating lamps create spectacular view when the sacred lake takes on a mystical tint sprinkled with twinkling spots of light and are one of the great tourist attractions.
Desert safari is very popular amongst the international tourists and
Camel Safari
is one of the most favorite ones. Tourists enjoy the camel ride through Thar desert while visiting the extreme villages of Rajathan. They enjoy the night under the starry nights of Rajasthan and sleep under tents after enjoying the folk dances around the bon fire.
Rajasthan Travel Guide