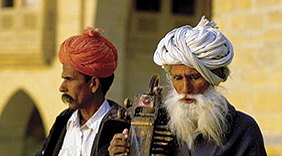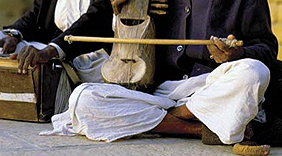 Custom Made Tour
Feel free to let us know if you are looking for customize tour program as all the tour itinerary is sample it can be modify according to your requirements.

Mount Abu Tour
History of Mount Abu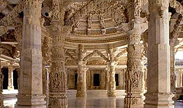 The history of Mount Abu is as diverse as the city itself. It was once a part of the Chauhan
kingdom of Rajasthan and served as a summer resort for the Rajput kings of the region. After that, it was leased by the British government from the then Maharaja of Sirohi for use as the headquarter of the resident to
Rajputana
(another name for Rajasthan).
During the British rule in India, it was the favorite summer destination of the British, who came here to escape the dusty, dry heat of the plains particularly Rajasthan. It also served as a sanatorium for the troops. The small huts and cottages here tell stories of those times even today.
Mount Abu was the home of many saints and sages in the old days. Legend has it that all the 330 million gods and goddesses of the Hindu pantheon used to visit this holy mountain. It is also the place where the great saint Vashishth lived and performed a
yagna
(sacrificial worship on a fire pit) to create four
Agnikula
(four clans of fire) to protect the earth from demons. The
yagna
was supposed to have been performed near a natural spring, which emerged from a rock shaped like a cow's head.

According to another legend, once sage Vashishth's cow Nandini was trapped in a deep gorge and could not free herself. The sage appealed to Lord Shiva for assistance. The Lord sent Saraswati, the divine stream, to help flood the gorge so that the cow could float up. Vashishth then decided to ensure that such mishaps did not occur in future. He asked the youngest son of Himalaya, the king of mountains to fill the chasm permanently. This he did with the assistance of Arbud, the mighty snake. This spot came to be known as
Mount Arbud
and was later changed to its present form - Mount Abu.
This place is held in reverence by Jains as well since Jain scriptures record that Lord Mahavira, the 24th Jain
Tirthankar
(spiritual leader), also visited Mount Abu and blessed the city.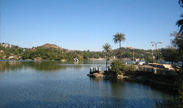 Mount Abu situated at a average height of 1,219 mtr's above sea level is the oasis in the deserted land of Rajasthan and posses the honor of being the only hill-station in Rajasthan as well as north-west India, The world famous tourist destination is known for its Delwara Jain temples and natural beauty world over, situated amidst lush green forested hills on the highest peak in the Aravali range is also the summer capital for the Indian state of Rajasthan, home to lakes, waterfalls and green forests, the hill retreat, has a very cool and soothing climate thanks to its rich flora covering the entire hillside that includes coniferous trees and flowering shrubs.
Mount Abu is declared closed area since 1965. Although, complete area of 328 sq. km. of Abu Hills is declared protected but officially 112.98 sq. km. is under unnotified sanctuary area (Anon., 2003). In shape, Mt. Abu Wildlife Sanctuary is long and narrow but the top spreads out into a picturesque plateau, which is about 19 km in length and 5-8 km in breadth. Once home to the meditating rishi and munis, the legend has it that Mount Abu is home to 33 crore Gods and Goddess. According to the legend the name Abu means son of Himalayas (or Ar-Booda, "the hill of wisdom"), deriving its name from Arbuada - the powerful serpent, which rescued Nandi the sacred bull of Lord Shiva. Mount Abu has been home, to many rishis and munis (sages and saints), including the famous Rishi Vashishtha, who is believed to have created four Agnikul Rajput clans, from a fire- pit, by performing a yagna or fire sacrifice, to protect the earth from the demons.
In historic times, Mount Abu was leased by the The East-India Company (British empire) from the Maharajah of Sirohi, Mount Abu was used as the headquarters for the resident of Rajputana until 1947, and as a sanatorium for troops.
Transportation
By Air
: Udaipur "Maharana Pratap Airport" is the nearest airport to Mount Abu. Tourists can easily opt for various road transport facilities available at the airport for reaching Mount Abu. A number of domestic and international airlines connect Udaipur with the major cities of Rajasthan and India

Railways :
Mount Abu Railway Station is located at Abu Road, which is 20 km away and nearly takes two hours drive from Mount Abu. The rail treks are well connected to major cities like Ahemadabad, Jaipur, Jodhpur and Mumbai by number of trains. It is a major stoppage for several long distance trains of the Western and Northern Railways. Gujarat Jain Circuit train connects Mount Abu, Bhavnagar and Mehsana.
Roadways :
Mount Abu is well connected by roads and is slightly close to the National Highway No 8 and 14, which connects Udaipur, Jodhpur, Jaipur, Delhi and other major cities of India. Some of the major distance from Mount Abu are Udaipur is 185 km, Ahemadabad is 214 km, Agra is 737 km and Delhi is 768 km, Mumbai - 835 km, Delhi 768 km.
Local Transport :
The most convenient mode of transportation inside the mountain valley are royal tongas, horse safaris, bicycles, auto-rickshaws and local city buses. One can easily choice transport of his own choice, which is simply available throughout the valley. Even the Tourist buses are organized here for sightseeing.
Mount Abu General Information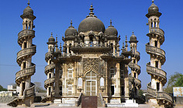 Altitude :
1219 meters
Population :
.018 millions
Area :
25 sq km.
Season
: October to March is the ideal time to visit Mandawa
Clothing
: Summer light tropical (cotton) for summer & Light woolen for winter
Languages
: Hindi, Rajasthani & English
Climate:
In Summer: 33.8 C (Max) - 23.3 C (Min)
In winter: 20.3 C (Max) - 0 C (Min)
Rainy Season : from July to Mid Sept, and very humid (Upton 90%)
PLACES OF INTEREST ARE:
The Dilwara Temple :
The Dilwara Temple of Mount Abu is a stunning example of ancient divine. It is one of the popular pilgrimage spot for Jains. This holiest shrine of Jainism is amongst the finest illustration of Jain architecture in India. It is a cluster of temple, which include two main shrines, superbly curved in a white Marble, which was built around 11th to 13th century A.D. Amongst which, the most oldest temple is Vimal Vasahi, constructed around 1031 A.D dedicated to the first Tirthankar "Adinath".
The intricacy and delicacy of the marble carving is so fine in Dilwara Temples that, in places, the marble becomes almost transparent. The lotus flower hangs from the center of the dome is an incredible piece of master-work, it is amazing to believe that this huge lace-like filigree started as a solid block of marble. As you start exploring the religious grounds, you will first see a long courtyard around which 52 identical cells are located, each with Buddha cross legged image and 48 beautifully carved pillars form the entrance to the courtyard. Whereas, other shrine belong to Lun Vasahi Temple, dedicated to the 22nd Tirthankara "Neminath", which was constructed by two brothers "Vastupal" and "Tejpal" around 1231 A.D. The most notable feature of this temple is its intricacy and delicacy of marble carving. Whereas the carving on the stones and marbles of the temple are regularly stored and maintained by employing several stone carvers.

Adhar Devi Temple :
Other attraction include Adhar Devi Temple, which is located 3 km in the north of town. This ancient Durga temple is chiselled out of a huge rock, which is reached by a flight of 365 stairs. It is one of the most believed holiest grounds for tourists and pilgrims across India. The temple allows panoramic views over the old mountain valley of Mount Abu.
Nakki Lake :
Another most interesting sight to visit in Mount Abu is Nakki Lake. This mesmerizing lake is located in the heart of the valley and according to legends, the moral philosophy says that it was scooped by god by only using his nail. Some of Hindu patrons believe that its a holy lake, hence most of the pilgrims pay a holy dip into the water. This splendid lake is surrounded by rugged hills, green gardens and solid rocks. Tourist visiting this lake also pay homage to the religious grounds of Raghunath Temple, that stands beside the Lake. Number of palaces and lavish mansions are build around the lake, which were once used by the royal families as a summer palace. Beside lake there are scores of comforts like the bustling small shops, coffee day, bars, tea shops, balloon vendors, ice cream palours and lot more to quench. One can also take the charm of horse safaris around the lake, which is available since from the morning to late evening.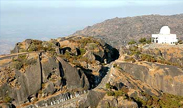 Brahma Kumaris Spiritual University and Museum
The university's stated aim is the establishment of universal peace through the impartation of spiritual knowledge and training of easy raja yoga meditation. To attend one of these residential courses, contact your local branch and arrange things in advance. There is no charge- the organization is entirely supported by donations, as is the accommodation.
Mount Abu Wildlife Sanctuary :
One of the most enthralling attraction in the heart of mountains is This heart throbbing sanctuary is 290 sq km long and is home to many animals and colour feathered birds. The tourist can spot panthers, bears, foxes, wild boars and migratory birds inside the park. Another fascinating attraction inside Sanctuary is Trevor's Tank, which was named after the British engineer who constructed it, Trevor's Tank allows delightful views to birdwatchers.
Guru Shikhar :
Beside this, a tourist must visit Guru Shikhar, it is one of the highest peak in the Sirohi District, stretched out to be 1722 m high. At the top you can see Atri Rishi Temple, from where a bird eye view of the mountain valley can be seen.
Achalgarh :
Another attraction is Achalgarh in the north of Mount Abu is a cluster of temples, Amongst which Achaleswar Mahadev Temple is noteworthy, build around 1412 A.D and the Kantinath Jain Temple, build around 1513 A.D. This alluring complex was build around 14 century by great warrior Rana Kumbha of Mewar. Beside this, a tourist must visit Gaumukh Temple. According to legends, Sage Vasishta performed "Yagna" here, from which four Rajput clans were born. Here one can also see marble cow, figure of Nandi " Shiva Vehicle" and Agni Kund. These are some of the thrilling experience you are going see before your eyes, once you are in the mountain valley of "Mount Abu".
Rajasthan Travel Guide