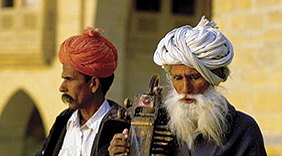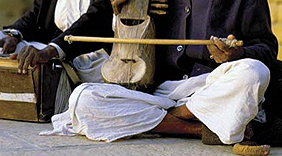 Custom Made Tour
Feel free to let us know if you are looking for customize tour program as all the tour itinerary is sample it can be modify according to your requirements.

Bikaner Tour
History of Bikaner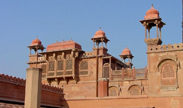 Bikaner is one of the most famous tourist destinations and fascinating cities of Rajasthan that is located in the northwest of the state of Rajasthan in northern India. Not only Bikaner is the admini strative headquarter of Bikaner district and Bikaner division, but also it falls in the desert lands of the Rajasthan.Bikaner is the land of maharajas and rajas, palaces, forts, deserts and ballads, the book covers a wide spectrum encompassing the political, socio-cultural and economic history of Bikaner from the earliest times up-to the middle of the twentieth century. A History of Bikaner uses different archival, epigraphical, numismatical, architectural, archaeological and art history related information as well as the traditional narratives and oral and written chronicles to provide a general overview of the city
According to History of Bikaner, Bikaner was founded by Rao Bika by the blessing of Goddess "Karni Mata" in the year 1488 AD.Rao Bika was the son of Rathore raja of Marwar, Jodhpur. He left Jodhpur with a small band of kinsmen due to differences with his father and set up his own kingdom in the Bikaner.Legends said that he seeked the blessings of Karni Mata, a renowned female mystic before setting up his empire in Bikaner.Not only he faced several difficulties to get throne of Bikaner, but also he got many difficulties for stabilizing his own kingdom. This desert region was the main important route for trading. Ultimately Bikaji conquered it in 1486 A.D. and later on it was renamed as Bikaner.

According to the History of Bikaner, Bikaner came into conflict with the Mughals.At this time the Mughal Sultanate were consolidating their empire in India. Biakner lay closest to Delhi amongst the Rajputana states.Mughals were unable to win the kingdom of Bikaner.Finally Akbar won the kingdom of Bikaner through his sharp diplomatic skills. In 20th century, Maharaja Ganga singh put Bikaner back into the Indian map with its due respect and glory. This beautiful city has its own glory that makes it only of its type. This gorgeous city known not only for its festivals and fairs, picnics and outings, temples and havelies, kite flying and its proud and fearless people but also for their camel races,ornaments,colorful costumes quaint customs, sheep's wool, awesome sunset and Sawan Bikaneri – that glorious time of year when desert city blooms in beauty.
A visit to India is not considered complete without a visit to Bikaner.It also remains incomplete without knowing about the History of Bikaner especially for visitors who are coming here from all parts of India as well as from all over the world.Bikaner offers a wide range of tourist destinations with its beauty and history. History of Bikaner is considered to be the oldest in India and favorite haunt for tourists and visitors. When come down to Bikaner, you should not miss out to catch the glimpses of its beauty. If you are making a plan for a tour of Bikaner, then it may be worthwhile experience for you.
How to Reach Bikaner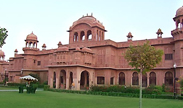 By Air :
The nearest airport service travelers headed for Bikaner is at Jodhpur.

By Bus :
Rajasthan Roadways run very comfortable deluxe & air conditioned buses from Delhi (Bikaner House, Nr. India Gate) to Bikaner. The roads are very good, and it takes around 8-9 hrs from Jaipur. You can also come by taxi.

By Train :
Several trains link it to important cities like Delhi, Jaipur, Bikaner, Udaipur.

Bikaner General Information
Area :
27244 sq. km.

Temperature :
Summer :
Max 41 degree C - Minimum 28 degree C
Winter :
Max.23.3degree C - Min.5 degree C

Best Season :
July to March
Language :
Hindi, and Rajasthani.
PLACES OF INTEREST ARE:

Junagarh :
Just over five centuries old, Bikaner was founded by a scion of the house of Marwar (Jodhpur). The fort of Bikaner, Junagarh, however, was built in 1593 by Raja Rai Singh who also served as a general in the army of Emperor Akbar. Made from red sandstone and encircled by a moat around which the modern city of Bikaner has spread in a somewhat erratic fashion, Junagarh consists of several palaces and apartments in a remarkable state of preservation. The art of mason and sculptor is most obvious in the recreation of delicate stone screens, kiosks, pavilions and series of arched entrances to buildings reached from corridors that have windows overlooking the city beyond.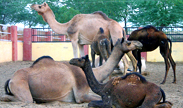 Some of the palaces are among the most richly decorated in Rajasthan and include Anup Mahal, Chandra Mahal and Phool Mahal. They give the impression of rich inlay of pietra dura, though in fact the apartments are merely richly painted. The paintings have been preserved as good as new because of extremely dry heat conditions of the desert town. Another palace, Badal Mahal recreated painting of clouds on its walls, a reminder of the monsoon that often failed the settlement. The Anup Mahal courtyard has a throne set in a pool of water. Bringing alive the sensitivity the rulers showed in their building environment.
Lallgarh Palace:
the architectural masterpiece in red sandstone, the palace was built by Maharaja Ganga Singh in the memory of his father Maharaja Lal Singh. The palace has beautiful latticework and filigree work. Sprawling lawns with blooming bougainvillea and dancing peacocks make it a not-to-be missed visual treat. Part of the palace has been converted into a luxury hotel and a museum known as Shri Sadul Museum.
Gardens and Parks:
Gaga Public Park with a Zoo, Ratan Bihari Temple Park and Tessitory Park are some of the lovely parks in the city, surely worth a visit.
MUSEUMS & ART GALLERIES:
Fort Museum, Junagarh Fort :
Ganga Mahal, the imposing halls added by Maharaja Ganga Singh, now housed the Fort Museum. It contains a fine collection of antique Rajput weaponry, jade handle daggers, camel hide dhals (shields) and inlaid handguns & camel guns. Other important objects include a pair of drums belonging to Jambhoji, the said who predicted the foundation of the dynasty by Rao Bika for 450 years. Photographs and items of personal use by Maharaja Ganga Singh and miniatures are also on view.

Ganga Golden Jubilee Museum:
Established near the Lallgarh Palace in 1937 on the ever of the Golden Jubilee celebrations of Maharaja Ganga Singh, this museum now run by the Government of Rajasthan, was shifted to a new building in the Civil Lines in 1954. Some principal sections of museum are: Maharaja Ganga Singh Memorial, Local Arts & Crafts, Sculpture, Terracotta and Bronzes, Armoury, Miniature Paintings, Folk Arts, Lithoprints of British Interpretation of the was of independence 1857.
Shri Sardul Museum and Anup Library, Lallgarh Palace:
Fort of the early 20th century Lallgarh Palace have been converted as a museum containing a large number of items used and collected by Maharaja Ganga Singh and his successors. Old photographs, trophies, shikar objects early cameras and movie projectors and weapons used by Maharaja Karni Singh, the manuscripts brought back from the Deccan by Raja Anup Singh in the 17th century.

EXCURSIONS:
Bhandeshwar & Sandeshwar Temples:
The oldest surviving monuments of aesthetic heritage, the 14th century Jain temples of Bhandeshwar and Sandeshwar were built by two brothers and name after them. The rich mirror work, décor and frescoes of the Bhandeshwar and Sandeshwar; and their gold-leaf paintings are noteworthy.
The old Jain havelies are other popular tourist spots. Other important temples of Bikaner include the Lakshminathji, Ratan Bihariji, and Nagnechiji temple. Also worth seeing is the Bhaironji Temples at Kodamdesar about 40 kms from Bikaner.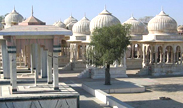 Camel Research Farm (8 km):
Spend a day with the indispensable ships of the desert at their camel research and breeding centre - one of its kind in Asia. Timing 15.00 hrs to 17.00 hrs (closed on Sundays and Government holidays). Photography prohibited. The farm extends over 2000 acres of semi arid land and is managed by the Central Governments. The Camel Corps of Bikaner were a famous fighting force during the 'Raj' and are still an important part of the desert warfare and defence through the Border Security Force (BSF).
Devi Kund (8 km):
A royal crematorium with several ornamented cenotaphs or 'chhatris' built in the memory of the Bika dynasty rulers. Maharaja Suruj Singh's Chhatri is the most impressive of all, created entirely in white marble with spectacular Rajput paintings on the ceiling.
Gajner Wildlife Sanctuary (32 km):
The lush foliage of woods on the Jaisalmer road are a haven to nilgai, chinkara, black bucks, wild boar and blocks of imperial sand grouse.
The Gajner Palace
, a summer retreat of the kings, stands on the bank of the lake and have been converted into a hotel.
Shiv Bari Temple (6 km):
Built by Doongar Singhji in the late 19th century. The temple in surrounded by an embattlement wall. It has beautiful paintings and a bronze Nandi facing the Shiva Lingam.
Kalibanga (205 km):
The extensive remains of the pre-Harappan and Harappan civilizations, found at the place in the Hanumangarh district, are of immense interest of archeology enthusiasts.

Deshnok:
A visit to the fascinating temple of Karni Mata, an incarnation of Durga, at this village, 30 km south of Bikaner along the Jodhpur Road, is not for the squeamish. Here rats are considered to be incarnations of storytellers and the holy rodents run riot all over the temple complex. The rats are known as Kabas, and it considered highly auspicious to have one run across your feet - you'll find you'll be inadvertently graced in this manner numerous times whether you want it or not!.
Kolayat:
The Kapil Muni Fair is the largest fair of Bikaner district held on Kartik Poornima at Kolayat- originally Kapilayata - named after the sage Kapil who is believed to have done tapasya (meditation) here for the redemption of mankind. Kolayat is situated in an arid area. There is a lake with 52 ghats shaded by banyan trees aroud the lake. A temple dedicated to Kapil Muni is situated on the Kapil Muni Ghat and it has a marble statue of the saint.
A large number of people come to Kolayat to redeem themselves by taking holy dips in the Kolayat Lake throughout the year, but it is considered very auspicious to take a dip on Kartik Poornima. The lakeside is dotted with temples. Ghats names after these temples allow privacy to the pilgrims, with some ghats meant only for women. Visiting Kolayat has been considered to be a tritha or pilgrimage of great importance and it is believed that one day's stay at Kolayat benefits as much as 10 years spent at nay other sacred place. The legendary Maharishi Kapil and the Kapilayatan Lake find mention in the Puranas and Kapil Muni is believed to have descended from Lord Brahma. A cattle fair is held in conjunction with the Kapil Muni Fair. Buffaloes, camels, horses and cattle are sold. Certificates and prizes are given away to the best breeders at the fair.
Rajasthan Travel Guide