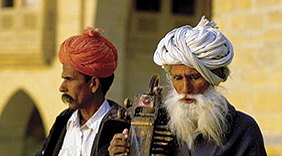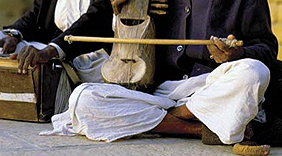 Custom Made Tour
Feel free to let us know if you are looking for customize tour program as all the tour itinerary is sample it can be modify according to your requirements.

Luxury Train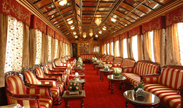 Embark on a regal sojourn covering the ravishing Rajasthan, enchanting Agra, and the delightful Delhi with the Royal Rajasthan on Wheels. Explore the refinement of luxury and royalty and gear up for the most remarkable journey of your life! The current tour of the luxury train journeys across the beautiful and historic cities of India that are reminiscent of the glorious past of the erstwhile Rajputana era. The train winds its way through Jaipur, Jodhpur, Udaipur, Chittorgarh, Bharatpur, Agra, Varanasi, and Khajuraho while on its week-long trip. The highlight of the trip is surely visiting the grand monumental structure - the Taj Mahal.
Expect only the best on this magnificent luxury train, christened Royal Rajasthan on Wheels.
This luxurious train is a joint venture of Rajasthan Tourism Development Corporation and Indian Railways. The sojourn presents an experience of a lifetime.
Royal Rajasthan on Wheels offers the most opulent facilities to its guests fit only for the kings. State-of-the-art amenities are blended with the traditional Rajput hospitality. The train is loaded with opulent features offering comfort and luxuries to the passengers. The retro lounges and super deluxe saloon would surely impress the passengers.

Royal Rajasthan on Wheels consists of super deluxe coaches and deluxe coaches. The guests aboard this train enjoy more space, as the number of passengers is limited. The train also has a common lounge, facilitating guest interaction of a high magnitude. And with Wi-Fi internet facility intact, you actually never lose contact with the world while on the go. There is also an intercontinental Spa facility to rejuvenate your senses. Moreover, the attendants are at your disposal to assist you all the time.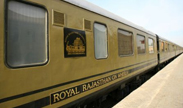 Each city the train traverses through, has an exclusive and fantastic history of its own. The magnetism that you will witness during the trip will surely make you nostalgic of the glorious past of the royal rajputs. And the essence of the Indian temple towns will surely refresh your spiritual senses. Rajasthan is not just about forts and palaces. It is also about its deserts and lakes and also its varied wildlife. The dramatic landscapes and the exotic flora and fauna species at Bharatpur and Sawai Madhopur definitely manage to awe inspire the wildlife enthusiasts.

The Royal Rajasthan on Wheels journey is worth a try for all guests on India visit. There is no other comfortable and opulent way to explore Rajasthan than through the Royal Rajasthan on Wheels. So what are you waiting for? Come, and enjoy the ride!