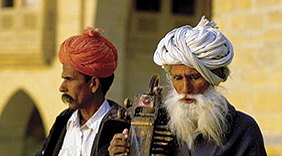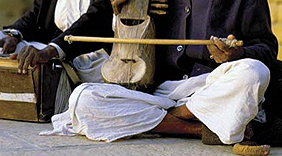 Custom Made Tour
Feel free to let us know if you are looking for customize tour program as all the tour itinerary is sample it can be modify according to your requirements.

Wildlife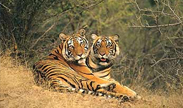 Rajasthan, one of the most fascinating states of India, is not only famous for its colorful culture, traditions and heritage cities with numerous magnificent monuments; the state is also known for its flora and fauna and houses some of the most famous and important wild sanctuaries and Parks of India. The topography of Rajasthan, which ranges from vast barren deserts to lush green forests and from rugged rocky terrains of the Aravalis to the fresh water wetlands, provide excellent environmental conditions for the survival and growth of a varied wildlife.
Ranthambore National Park
Ranthambore National Park, Rajasthan has a rich wildlife including Tigers (including the most famous diurnal tigers), Leopards, Striped Hyenas, Sambar deer, Chital, Nilgai, Macaques, Jackals, Black bucks, Rufous tailed Hare, Chinkara, Desert Cats, Five striped Palm Squirrels, Indian False Vampires, Indian Flying Foxes, Indian Porcupines, Small Indian Mongoose, etc. The only amphibians in the park are Common Frog and Common Indian Toad.
Also finding a home in Ranthambore are Snub Nosed Marsh Crocodiles, Desert Monitor Lizards, Tortoise, Banded and Common Kraits, Cobras, Indian Pythons, North Indian Flap Shelled Turtles, Rat Snakes, Russel's Vipers, Saw-scaled Vipers, etc. Ranthambore is also a bird watchers paradise. Approximately 272 species of birds have been found in Rajasthan, both resident as well as migratory.
Sariska National Park
The Sariska National, snuggled in the Aravali Hills and lying in the district of Alwar, was declared a wildlife sanctuary in 1958 and was included in the "Project Tiger" as a tiger reserve in 1979. The park encompasses a sprawling area of 800 square kilometers and is the abode of a range of diverse flora, fauna and avifauna.
Almost 90% of the entire area in the sanctuary is covered with dhok trees. Besides this the dry deciduous type vegetation consists of Khair, Ber, Tendu, Surwal and Goria. The park becomes very dry during the hot summer and becomes green during and after the monsoon.
The wide variety of wildlife species include Sambhar, Chital, Chausingha, Nilgai, Wild Boar, Rhesus Macaque, Four-Horned Antelope and Langurs. There are also a family of carnivore animals consisting of Wild Dog, Leopard, Jungle Cat, Jackal, Hyena and Tiger.
Bharatpur Bird Sanctuary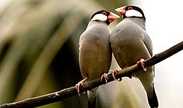 The Bharat Pur Wildlife Sanctuary, of Rajasthan, houses approximately 300 species of birds. Amongst them, the most prominent ones are Painted Storks, Open and Spoon Bills, Egrets, Cormorants, White Ibis, Jacanas, While Harriers, Fishing Eagles, Pied Kingfisher, etc. However, the most awaited species of birds is the Siberian Crane. Apart from Iran, India is the only place where this bird migrates in winter.
Bharatpur sanctuary remains open throughout the year from sunrise to sunset. There is permission for vehicles to go up to Shanti Kutir, i.e. approximately 1.7 km inside the park. Beyond this point, the options are to walk or take a bicycle or go by a cycle rickshaw. Even tongas and boats are available when the water level is high.
A hunting ground for the Maharaja, Bharatpur was formed by transformation of the shallow depression created by the union of River Gambhir and River Banganga. This was then formed into a reservoir by damming the rainwater in monsoons. The ultimate result was the formation of a shallow wetland ecosystem, a perfect habitat for birds. The park continued to be a hunting preserve for the Maharaja and the British till 1964.
Desert National Park
The Thar Desert, which is known as the 'ocean of sands', covers a large portion of western Rajasthan. It's a wrong notion of people that the deserts can't support a varied flora and fauna. The fragile ecosystem of the Thar supports a unique and varied wildlife species. In this vast ocean of sands lies the famous Desert National Park, which provides an excellent example of the ecosystem of the Thar Desert and its diverse wildlife.


Jaisamand Sanctuary
Jaisamand sanctuary is an expanse of dense woodland over a great area of 52 sq km. The leopard, hyena, jungle cat, fox and wolf include the predators of the sanctuary. Additional abundant animals here comprise sambar, chital, langur and chinkara. The Jaisamand Lake is the humble home of crocodiles, turtles and an amazing diversity of fish. Numerous living types of earthly and water-birds can also be seen here.


Kumbhalgarh Sanctuary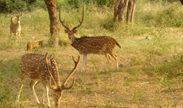 Kumbhalgarh's natural beauty is attracting many tourists and especially for its accessibility from Udaipur, which is 100 Kms from here. Foot tracking and horse safari organised by local tour operators are proving to be very popular. A typical safari route enters the sanctuary from the Kumbhalgarh Fort and cutting across the sanctuary it reaches Ghanerao, and then borders an old abandoned road. On this road, one can sight Chinkaras, Neelgais, four horned Antelope and many birds.