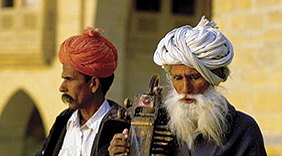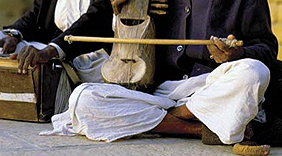 Custom Made Tour
Feel free to let us know if you are looking for customize tour program as all the tour itinerary is sample it can be modify according to your requirements.

Jaipur Tour
Jaipur Brief Introduction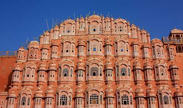 Rajasthan's beautiful Pink City Jaipur, was the stronghold of a clan of rulers whose three hill orts and series of palaces in the city are important attractions. Known as the Pink City because of the colour of the stone used exclusively in the walled city, Jaipur's bazaars sell embroidered leather shoes, blue pottery, tie and dye scarves and other exotic wares. Western Rajasthan itself forms a convenient circuit, in the heart of the Thar desert which has shaped its history, lifestyles and architecture.
Founded in AD 1727 by Sawai Jaisingh II,
Jaipur the capital of Rajasthan is popularly known as the Pink City with broad avenues and spacious gardens. The capital of Rajasthan, Jaipur is steeped in history and culture. Here the past comes alive in magnificent forts and palaces, blushed pink, where once lived the maharajas. The bustling bazaars of Jaipur, famous for Rajasthani jewellery, fabric and shoes, possess a timeless quality and are surely a treasure-trove for the shoppers. This fascinating city with its romantic charm takes you to an epoch of royalty and tradition.
Jaipur has been laid according to the conventional nine-grid pattern that astrologers believe to be lucky, and which has been recommended in the ancient Indian treatise on architecture. Each grid consists of a square, and these have been planned so that, at the heart of the city is the City Palace. Spread around it, in rows, are public buildings, the residences of noblemen, the living and trading quarters of merchants and artisans. Straight, wide roads run through the city, while a high, crenellated wall that forms its defense is pierced with seven gateways that serve as entry points. Today, these walls may be more difficult to spot since the city has grown far beyond its original plan, but they are still there, proof that though Jaipur saw no great siege, it was more than adequately prepared for it.

Jaipur's architectural planning
may have been ancient, but its execution was definitely modern. Best represented by the City Palace complex, it brought together all that was excellent in Rajput and Mughal architecture, creating a new tradition that found wide currency over much of north India. As in the Mughal tradition, the durbar or court areas became much more open, characterised by a series of arched pavilions held on delicately crafted pillars. Ornamentation had always been a part of the state's architectural heritage, now it became much more opulent. The private wings of the family also extended their entertainment areas. Since defence was no longer a primary concern, larger, more ornamental windows were built to over look the streets or courtyards outside these wings. Gardens were no longer planned within the internal courtyards only, but were added to the external vistas, and water, a basic feature of Mughal palaces and gardens, was utilised in a similar fashion, in canals and fountains.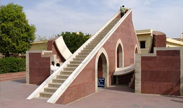 Jaipur has much to offer visitors — everything from pageants and festivals to extraordinarily clad people, a wealth of handicrafts, a royal legacy of palaces, and sightseeing — that will occupy their time. However, should the visitors simply choose to walk around the streets of the old city instead, they will not regret it. All of Jaipur is an architectural gem, and no scheduled sightseeing can even hope to do justice to this rare city.
History of Jaipur
Forts, palaces, architectural marvels and tales of valour, all in their own way, bear testimony to the glory that Jaipur is and was just after it was conceived by Sawai Jai Singh in 1727. Located 262 kilometers from Delhi, jaipur was the first planned city in northern India. Jaipur's history dates back to the 12th century when the Kachchwaha clan o Rajputs arrived at the old fort palace of Amber in the Aravalli Hills. The Kachchwaha belonged to the Kshatriya, or the warrior caste of Hindus, but they traced their origins back to the sun, via Kusa who the twin son of the god Rama.
The people the Kachchwahas ousted were the Susawat Minas, who became the hereditary loyal guards of what became one of the largest and most valuable treasuries in India. From this base, the Kachchwaha Rajputs, with their brilliant soldiering, and a knack for lucrative alliances (even if that meant swallowingg Rajput pride), amassed a fortune. It was the special relationship the Amber rulers developed with the Mughals that brought them real power, influence and wealth.

Arriving from Jaipur through the narrow pass in the hills, you are presented with a view of the honey coloured Amber fort-palace that conforms to every expectation of how a romantic Rajupt forts should appear. It rambles over a rugged hill, reflected in Maota Lake below. The odd elephant plods up the ramparts road. In Amber village, which clusters around the hill, gem-cutters smoothen and cut stones, the faithful go to mosques and temples, and children run around the royal chhatris (mausoleums) and decaying houses. A circle of protective hills surrounds all this, and snaking up these hills are crenulated walls punctuated by look-our posts. On the highest ridge and overlooking the valley is Jaigarh Fort, a spectacular display of defence. Inside Amber Fort, the contrast is sharp, the grand painted gateway, the hall o public audience that made even the Mughal emperor jealous, pools and cascades to cool the air in summer heat, and the hall o mirrors inlaid with tiny pieces of glass so that a single flame creates a room o a thousand bejeweled stars.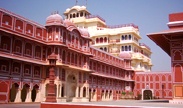 The power to create such a strong fort enclosing such beauty was built up over several generations. Raja Bihar Mal made the first move. Recognizing Mughal power, he paid homage to the emperor Humayun and led a 5,000-strong army for him. Then he made sure he was the first Rajput presented at Akbar's court. His big chance came when Akbar made his first annual pilgrimage to Ajemr, the burial place of a Muslim saint, which lay in Kachchwaha territory. On a visit to Akbar's tent, Bihar Mal gave his daughter to be the emperor's wife and his adopted grandson, Man Sing, into royal service. The daughter finally gave Akbar his first son, who became emperor Jahangir. The next ruler, Bhawan Das, cemented the alliance and gave a daughter to be Jahangir's wife. Then came the two rulers who built Amber. Man Singh, a leading general under both Akbar and Jahanir, and Jai Sing I, a military and diplomatic genius who brought the house of Amber to its apogee at the Muhal court, On the throne aged 11, Jai Singh I was soon commanding a Mughal force for Jahangir, then fought all over the Mughal empire for Shah Jahan and finally backed the right side in the war for succession and became emperor Aurangezeb's most prized Rajput commander. All this time, the Kachchwaha coffers were filling with prizes, rewards and booty. Three rulers later, Jai Singh II, another child prodigy, came to the throne. The young lad quickly impressed the 71-year-old Aurangzeb who awarded him the title 'Sawai', meaning one-and-a-quarter. Even today, the flag flying above the City Palace in Jaipur has an extra, quarter sized one next to it. Jai Singh II, having proved his soldiering ability further enriched his coffers and fulfilled his other passions - the arts and sciences. The impressive giant stone instruments which he devised for the open-air observatories at Jaipur, Delhi, Ujjain and Varanasi stand testimony to his scientific prowess. After ascending the throne, he shifted the capital from Amer. He studied the architecture of several European cities and drew up plans for constructing a larger and well-planned city. He consulted his best mathematicians, astronomers and the Silpa Sastra Sastra, a traditional Hindu architectural treatise before making the the blueprint for the new city.

After building close bonds with the Mughas and sure that there could be no danger to his throne, Sawai Jai Singh, envisioned his dream project, the building of Jaipur. the foundation stone was laid by him in 1727 and an eminent architect, Vidyadhar Bhattacharaya, was asked to desing the 'Pink City. ' It was a two-in-one compliment as 'Jai' means victory and was also the ruler's first name. That it was later chosen as the capital of Rajasthan formed from the amalgamation of various kingdoms, was a tribute to both Jai Singh and Bhattaccharya.
The city was planned in a grid system of seven blocks of buildings with wide straight avenues lined with trees, with the place set on the north side.Surrounding it are high walls pieced with ten gates. The site of the shops were chosen after careful planning and they are arranged in nine rectangular city sectors (chokris). Jaipur was the first sizable city in north India to be built from scratch, though the famous pink colour symbolizing welcome', came later when Ram Singh II received the Prince of Wales in 1876. The colour was chosen after several experiments to cut down the intense glare from the reflection of the blazing rays of the sun. To this day, the buildings are uniformly rose pink. After Jai Singh died in 1773, a battle for succession followed and the Marathas and jats who were making advances in various parts of the country also decided to try their luck and Jaipur lost large chunks of territory with the ruler playing second fiddle the the fast growing East India Company. In 1818, several maharajas of the north-west princely states and Maharaja Jagat Singh of Jaipur, signed a treaty with the British under which they could continue to have control of their states, but would be collectively supervised by the British under a new name, Rajputana. After Independence, Jaipur, Jodhpur, Jaisalmer, Bikaner and other Rajpur states merged to form the state of Rajasthan with Jaipur as the capital. And even after 273 years after it was founded, jaipur has retained its unique flavour and old world charm. It is a bustling trading centre with colorfully set bazars, people sporting blood-red turbans, puppet sellers, and festivals and fairs.
Transportation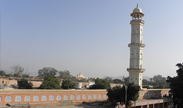 Air
: Indian Airlines connect Jaipur with Delhi, Jodhpur, Udaipur, Aurangabad, Bombay, Varanasi, Calcutta, Ahmedabad.

Rail
: Jaipur is connected by rail with Delhi, Agra, Ahmedabad, Ajmer, Abu Road (Mount Abu), Udaipur, Bombay and Sawai Madhopur.


Road
: Good motorable roads connect Jaipur with Delhi 258 km, Agra 236 km, Bikaner 321 km, Udaipur 405 km, Ajmer 131 km, Jodhpur 316 km, Bharatpur 176 km, Jaisalmer 638 km and Bombay 1202 km


Bus
: Regular buses ply from Jaipur to the above places and Alwar, Kota, Sariska, Mathura, Indore, Chittorgarh and Barmer.
Jaipur General Information
Population
: 23, 24, 319 (2001)


Area
: 23.3 sq. km. approx
Altitude
: 431 m (above sea level)
Temperature
: Summer Average Max 40.6°C, Average Min. 25.8°C Winter Average Max. 22.0°C Average Min 8.3°C
Rainfall
: 64 cm


Season
: September to March
Clothing
: Summer - Tropical, Winter - Woolen

Languages
: Hindi, Rajasthani & English
PLACES OF INTEREST ARE:
HAWA MAHAL
built in 1799, by Maharaja Sawai Pratap Singh, is the most recognizable monument of Jaipur. The 5 storied stunning semi-octagonal monument having 152 windows with over hanging latticed balconies is a fine piece of Rajput architecture. Originally designed for the royal ladies to watch and enjoy the processions and other activities, on the street below. Now it houses a well laid out museum. The display "Jaipur past and present" is the special feature of this newly setup museum. Timing 10.00 to 16.30 hrs.
JANTAR MANTAR (Observatory)
built in 18th century by Maharaja Sawai Jai Singh II, the huge masonary instruments were used to study the movement of constellations and stars in the sky. Enormous sun-dial still provide accurate time, which are subject to daily corrections. Timing 9.00 to 16.30 hrs.
CITY PALACE
situated in the heart of the old City, it occupies about one seventh of the old city area. The palace is a blend of Rajput and Mughal architecture, it houses a Seven storeyed Chandra Mahal in the centre, which affords a fine view of the gardens and the city. Diwan-E-Am (Hall of public audience) has intricate decorations and collection of manuscripts, Diwan-E-Khas (Hall of private audience) has a marble pawed gallery Mubarak Mahal has a rich collection of costumes and textiles. There is a Clock Tower near Mubarak Mahal. Sileh Khana has a collection of armory and weapons. Timing 9.30 to 16.45 hrs. Entry Fee for Indians Rs. 35.00 and for foreigners Rs.150.00 inclusive of entry to Jaigarh fort.
ISHWAR LAT
'Swarg Suli' or 'heaven piercing minaret', the tower, near Tripolia gate, built by Maharaja Ishwari Singh (1744-51). It offers one of the most breathtaking view of the city.


CENTRAL MUSEUM
situated in the Ram Niwas Garden. This graceful building was founded in 1876 by Prince Albert (also known as Albert Hall). It has a rare collection of archaeological and handicraft pieces. Timing 10.00 to 16.30 hrs.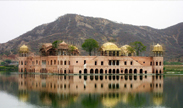 DOLLS MUSEUM
a collection of beautiful dolls from all over the world, it is situated on Jawahar Lal Nehru Marg. Timing 10.00 to 16.00 hrs.
BIRLA PLANETARIUM
It offers unique audio-visual education about stars and entertainment with its modern computerised projection system. Entry fee As. 20.00 show timings: 11.00, 13.00, 15.00, 17.00, 18.00, 19.00 hrs.
JALMAHAL
(6 kms) on the way to Amer, this small palace is set in the middle of Man Sagar Lake. Renovation around the lake is in progress.
GAITOR
(6 kms) At the foot hill of Nahargarh stands the memorials to the former rulers of Jaipur the place has some gracefully carved cenotaphs in white marble.

JAIGARH FORT
(15 kms.) standing on a hilltop, overlooking the palaces and city of Amer. The world's biggest cannon on wheels- the Jai Ban is positioned here, built during reign of Maharaja Sawai Jaisingh. It has a twenty feet long barrel and pumped in the cannon for a single shot. Timing 10.00 to 16.45 hrs.
NAHARGARH FORT
(15 kms.) cresting a hill about 600 ft. above the city, the fort was built in 1734. The walls of the fort run along the ridge and within are architectural beauties like Hawa Mandir and Madhvendra Bhawan. Timing 10.00 to 16.00 hrs.


GALTA
(10 kms.) This holy pilgrimage centre has a temple dedicated to the Sun God (Which is the only one of its kind in this part of the country) and natural spring. It crests the ridge over a picturesque gorge and provides an impressive view of the city. As the legend goes, sage Galav performed a difficult penance here.
MOTIDOONGARI
perched on a hill top on the southern horizon. It is a replica of a Scottish castle.

LAXMI NARAYAN TEMPLE
is situated just below the Moti 000ngri, known for the intricate marble carvings in white marble, popularly known as Birla Temple.


MAHARANI K! CHHATRI
The funeral place for the royal ladies, marked by some wonderfully carved cenotaphs.
SISODIA RANI GARDEN
(5 kms.) on the road to Agra, the magnificent palace garden was built by Maharaja Sawai Jai Singh II in 1710 for his queen. Timings 8.00 to 18.00 hrs.
VIDHYADHAR GARDEN
(5 kms.) on the way to Agra, built by Viyadhar, the chief architect and town planner of Jaipur. This beautiful terraced garden has several galleries and pavilions decorated with exquisite murals, depicting Lord Krishna. Timing 9.00 to 18.00 hrs.
KANAK VRINDAVAN
(6.5 Kms on the way to Amer) This newly restored temple and garden, near Jal Mahal, has beautiful gardens and is popular picnic place. This is also beautiful location for film shooting.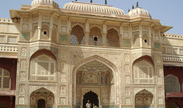 AMER
The old capital of the Kachhwahas stands atop a range of craggy hills. The fort is remarkable as much for the majestic grandeur of its surroundings as for its sturdy battlements and beautiful palaces. It is a fine blend of Hindu and Muslim architecture. The solemn dignity of it red sandstone and white marble pavilions, when reflected in the lake at the foot hill, is a sight to behold. The original palace was built by Raja Man Singh, the additional extensions were built by Maharaja Mirja Raja Jai Singh and Sawai Jai Singh lIthe last Maharaja of Amer, who built a new city called Jaipur, where he shfted his capital in 1727. The palace complex is lavishly ornamented and displays the riches of Amer. Sheesh Mahal chamber of Mirrors. Diwan-e-Am or the Hall of Public Audience is a beautifully proportioned hall open on three sides and stands on two rows of ornamented pillars. Diwan e-Khas or the Hall of Private Audience has delicate mosaic work in glass. Sukh mandir is guarded by sandalwood doors inlaid with ivory. Throughout the massive fort finely carved lattice windows, exquisitely painted doorways, halls and finely sculptured pillars crave for attention. The old city of Amer was the seat of power and bustling with life and prosperity. Other worth seeing sites are Jagat Shiromani Temple, Narsinghji temple, the stepwell of Panna Meena and fine carved royal cenotaphs on the road to Delhi.
Rajasthan Travel Guide